Neon World Of Kboi: The Art Of Kenji Nuñez Exhibit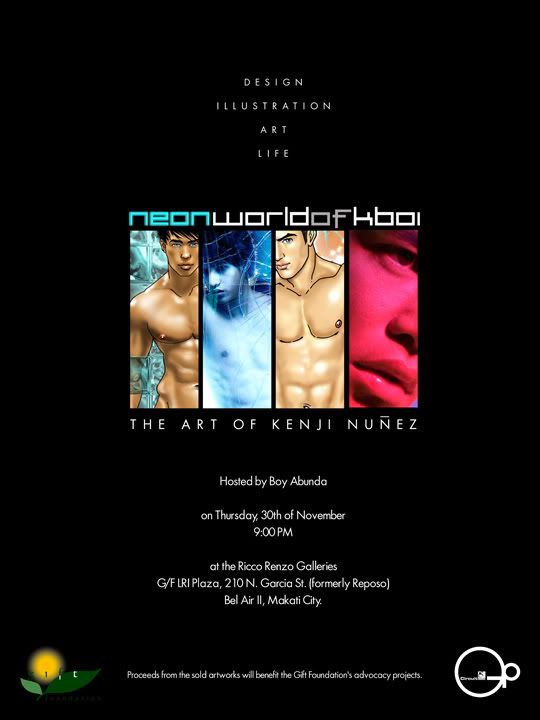 The Neon World of KBOI:
Kenji Nunez's first one-man exhibit

An opportunity to exhibit one's artworks doesn't fall on one's lap every day. More so, it doesn't come to some who has yet to prove his mettle and carve his name in the art scene. For GP Magazine's Editor-in-Chief and Creative Director Kenji Nuñez, however, all of it is now a reality.

As an arbiter of the gay lifestyle and prolific creator of some of the noteworthy gay illustrations in the country, Nuñez is an exceptional artist, whose sensibilities and talent deserve to be lauded and pushed into the consciousness of the public. More than a showcase of bodies in various states of undress, his artworks attempt to capture the gay lifestyle and introduce it in a different light.

Featuring vivid digital illustrations and photographs creatively directed by the artist, "Neon World of Kboi" depicts the beauty of the pink community—a sector in society which very few people have addressed, much less, tackled before. Being young and fresh with ideas, Nuñez have rendered his interpretations of the pink community in colorful images in order for him to reach a wider market.

Composed of 30 artworks, the week-long exhibit, which begins on Nov. 30 at the Ricco Renzo Café and Art Gallery, is a celebration of creativity and goodwill, as proceeds of the sale will benefit Gift Foundation, a non-profit organization that advocates AIDS awareness and prevention. A short program will be hosted by none other than the popular showbiz personality Boy Abunda.

It has been a lifelong dream for Nuñez to share his art. More than anything else, Nuñez wants to translate the vivacity of the pink community in his works.

"The exhibit will be an introduction of what my art is among the majority. It's also a way of showing the people the true essence of the modern gay lifestyle and homo-erotic art," says the overwhelmed Nuñez. "I don't want to conform to any rules. I just want to express myself. My artworks are all colorful and striking it offers something different to the people. More like an eyecandy and a colorful semblance of the gay lifestyle."

Likewise, people, gay or straight, are starting to recognize his amazing artistic prowess. His illustrations have been used in gigantic billboards, flyers and posters.

Get to know the man behind the leading gay glossy in the Metro and know what the buzz is all about. Visit Nuñez's "Neon World of KBOI: The Art of Kenji Nuñez," from Nov. 30 to Dec. 7 at Ricco Renzo Restaurant located at the ground floor LRI Building, Nicanor Garcia St. (formerly Reposo St.)Bel-Air Village, Makati City.
Links