My Super Hero Attempt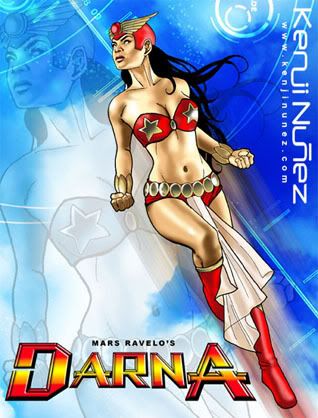 Hey guys, I know it's been a while since I last updated my blog. It has been a tough week loaded with work, nightouts and of course, the never ending
book of distractions.
But I am returning with a surprise treat of sharing with you two of my latest illustrations. As some of you may already know I'm a comic and movie aficionado. Growing up with comic titles like
Justice League
,
Wildcats
,
Superman
,
Batman
,
Meridian
,
The Flash
and my favorite
Uncanny X-men
helped in molding the inner artist in me. At a very early age drawing has been my constant tool to express myself. I remembered when me and my cousin who's also an artist were debating countless of hours if his original characters (and so he claims) are far better than my X-Men based characters. We would spend our whole weekend (sometimes missing family dinners) by taking our turns in presenting our ideas to each other. We would eventually discuss our innovative creation--from character design to the characters' powers and adding some ridiculous story lines and plot. Remembering it now, I feel a bit silly and geeky…ouch! ¬ Imagine, I have to get it ready the whole week just to out-do my cousin in time of our presentation?!
How loser can you get with that one? But I also see it as a form of training (now, I'm trying to revive my cool points). At a young age, you get to exercise your creative muscles, and it's quite handy when you end up being an Illustrator and Creative Director.
Recently, I had the chance to do my rendition of a super hero, it all started during the production of GP magazine's premiere issue I was in-charge of providing the visuals for a feature about Darna. And it was during that time that the
Darna
T.V. series was very popular which generated a lot of hype. So I decided to base my illustrations on the fantastic prints
of the T.V. series courtesy of lens man Jake Verzosa.
Following my Darna Illustrations I now have my take on two of my other favorite super heroes--Superman and Catwoman. Here's a sneak peak of the two illustrations which will be included in my Superhero gallery at my website…
Superman
---The ultimate super hero. I'm really more of a Batman fan and swore that I never actually looked at the line of Superman movies and comics with the same intensity when I looked at Batman. Not until I saw "Superman Returns", or should I say not until I saw Brandon Routh ;). This illustration is my tribute to Superman.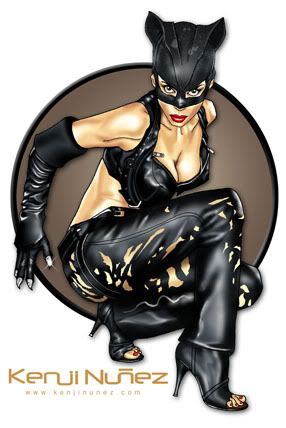 Catwoman
----When I first saw Michelle Pfeifer delivered a perfect portrayal of Catwoman, I immediately fell in love with the character. Catwoman is my favorite superhero slash villain character. She's sexy, ruthless and in tight black leathers! (Not that I have any fixations with people in leathers) but I just find her so commanding and sexy! Never mind not having super powers...just looking good and saying mee-oww after a series of back flips is just plain cool. I already have a Catwoman illustration based on Michelle Pfeifer, but I will save that for my website. For now you guys can have a preview of my Halle Berry Catwoman version.
Please watch-out for 2 more Super Hero illustrations I will preview here. The Flash and Kitty Pride (as by request of my
friend Jhandy).
Links